Welcome to the guide to creating the perfect capsule wardrobe. Let's be honest you have seen many pictures on different websites bookmarked and saved them too, however you just unable to create that perfect wardrobe that will help and organize all of your clothes. The ones you want to wear down with boys/girls at the pub or if you just want to wear something casual. We know how stressful and confusing it is when you are getting ready in the morning or trying to get ready when going out with your mates. Thankfully capsule wardrobes have the answers in the modern 21st century times. A capsule idea literally is a wardrobe that optimizes less quantity and more quality, made in such a way that your paired outfits are carefully selected matched and put in there so when the time comes only thing you have to do is to take it out.
Objective
Its good that you have decided to put a capsule wardrobe in your room but it can be a little bit intimidating if you haven't decided what exactly is you want to achieve with it, and more importantly it will help you to stay on track, its really important to keep an idea of how many clothes you want to keep in your wardrobe, its not a requirement that you keep a definite number in mind however its good to keep around less that 50, don't try to be too strict in your choice of clothes or you may end going back to your style of living.
Before starting to set up you should have a clear idea of what kind of clothes you want to keep in your wardrobe. Your less than 50 clothes should include outerwear, shoes, trousers ( bottoms ), Shirts ( tops ). But do not keep work outfits or any swimwear, night suits pajamas, undergarments, or any other accessories. Do keep one thing in mind your capsule wardrobe will showcase your personality so paired your selection carefully, so try to aim to showcase different parts of your personality or whatever you feel like during the day. Remember to dress to impress.
Clean Any Unwanted Items
Once you have decided your objective its then very easy to clear out any unwanted items that you don't want in your wardrobe. This can be a little too much for some folks, but try to focus on the benefits and enjoy the process enjoy the memories if you have with your outfits some even may find it more therapeutic than difficult. A clean wardrobe will always make you feel more relaxed and make you feel like that you are in charge, it will give you more control. Whatever that you have in access clothes etc. try to sell them or give out to someone who really needs it, you must do a before set up run of your wardrobe be sure to remove any unwanted items that just don't fit or feel right. Once you do a trial run check if there is anything you have forgotten and complete those outfits.
Be realistic when choosing those outfits remember there is no point in keeping 7 running outfits if you go for jog three times a week.
Keep Away Out Of Season Outfits
The capsule outfit will contain important outfits that are tailored to your style. There are always off-season clothes that you may want to remove and keep somewhere else to reduce clutter. There may be some clothes that have sentimental value and you are just not ready to part ways. Do keep a line between clothes not everything deserves to be saved.
Buy Anything That You're Missing
Once you have sorted all of your outfits for your capsule wardrobe you may start to find simple stuff that is missing may be plain black shoes or me a plain colored shirt that will take your outfits to a new level. Now is the time to buy all of those things and make your wardrobe personalized to your needs. Once you have decided what you need you can go for shopping spree only invest in the stuff what you really need do not cross the line what we have already established remember simplicity is the key here.
Also, invest in those items that will last a really long time, the objective here to make your wardrobe last as long as possible, it might be more expensive right now but it will really save your time energy, and best of all money.
Change Is The Key But Only After Half A Year
A typical season outfit will only last 3-6 months tops, once you have decided what capsule wardrobe outfits are you can go ahead and cover 3 months to 6 months to cover seasons like spring and summer, then you can again challenge yourself and make purchases for the next 6 months and cover autumn and winter. However, that does not mean you can go on a shopping spree each season try to reuse as many clothes as you can that plain black shirt that you bought for yourself last season might work again for this season too. Remember less shopping equals more joy.
Recheck your wardrobe every 3 – 6 months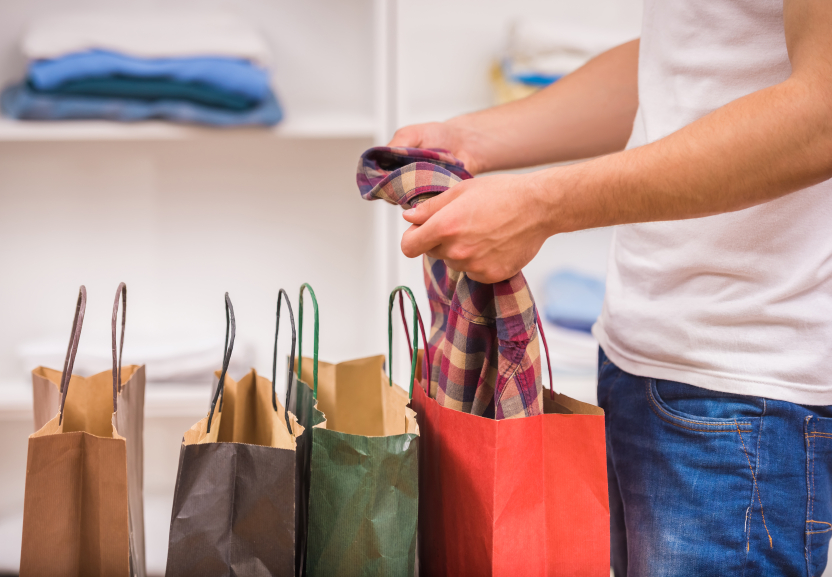 When the news seasons comes around do check your wardrobe what it is that is missing what can be re used and what needs to be added, the good news is your wardrobe is already sorted before you start re upgrading it when the season kicks in. Always keep a separation of summer clothes with winter
Always keep coats and tanks tops in storage when they are not needed.
Assign personal touches with accessories
Capsule wardrobe are sometimes considered boring, you don't have to let it be that way. Go creative add a personal touch with accessories earrings belts ear muffs go what you think is essential and necessary to bring out the "you" in every outfit, but don't go over board with stuff like sunglasses shoes anything in excess is bad and disrupts the main purpose of having a capsule wardrobe in the first place.