For hair that needs extra help to stay healthy, here's a look at three types of products designed for damage control. For quality products, you must only rely on products that are balanced and capable of taking care of your hair.
Dandruff is the visible flakes of skin shed from the scalp. It is the result of the normal growing process of the cells of the skin of the scalp. It can happen at any age between twelve and eighty. A cradle cap is a special form of dandruff found in infants and newborn babies. It is a persistent and itchy disorder of the scalp. It is also known as seborrheic dermatitis. Dandruff is a gradual process. White or greasy yellow flakes appear on the hair and scalp. It may cause itching and redness of the scalp. Dandruff does not cause hair loss. Human skin constantly renews itself so it is normal to shed some dead skin flakes. The new skin is formed in the lower layer and is pushed to the surface.
Follow some tips below to decide whether blow dry alone is effective or restoration can help you too.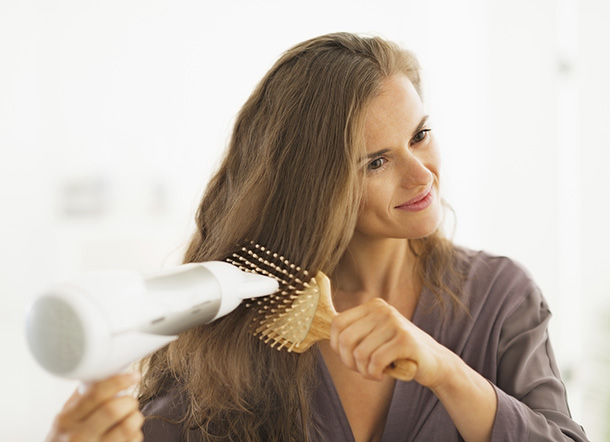 SHAMPOOS Formulated for distressed tresses cleanse hair, smooth cuticles, and—most important—restore moisture and shine, and they are a critical part of the care routine. Heat styling is a major source of damage. Heat depletes the moisture out of your hair. When it comes to damaged hair, shampoo routines are the main culprit. One needs to assess the condition of the scalp along with hair type. How often someone with damaged hair should shampoo is dependent on whether their scalp is oily or dry and what chemicals they're using.
MASKS are designed to penetrate directly into the hair shaft to condition and strengthen strands and reconstruct broken-down proteins, as well as protect the hair from environmental and chemical stressors. Since highly concentrated products are common in the market, stylists should advise their clients to use them as supplemental treatments to their normal shampoo and conditioner regimens. We must make sure all important ingredients are present in the shampoo we use and they penetrate deeper into the hair shaft, so they're doing inner repair versus a leave-in treatment, which is more 'preventative medicine'. People should use masks about once a week for the best results.
LEAVE-IN TREATMENTS are ideal for hair that needs extra conditioning and nourishment. Gentle enough for everyday use, leave-ins are formulated to strengthen hair from the roots and shield the strands against environmental damage while helping to prevent moisture loss, breakage and split-ends. There really is no rule against using them, as long as you're using the proper kind of leave-in for the hair texture and density you're working with. Leave-ins come in a variety of formulas, including the cream-based types that are recommended for coarse-textured hair and sprays that won't weigh fine hair down.
Blow-dry professionally
You don't need to go to the hairdressers to achieve big, bouncy hair; look no further than my tried and tested tips for a professional finish in a flash. When I'm booked to do a celebrity's hair and make-up for a red-carpet event, I often only have one hour in which to do hair, make-up, and nails so I've had to develop quick techniques that work. These are the short-cut steps to gorgeous hair, with natural products of course!
Wash your hair with a volumizing shampoo 1 and conditioner like Voluminous Shampoo and Conditioner, which uses lemongrass and green tea to help balance hair oils and create volume. Wrap hair in a moisture-absorbent towel like Aquis Lisse Hair Towel, which is great at taking away excess water quickly.
Apply a golf ball size squirt of mousse to your hair by tipping your head upside down and rubbing into the roots, through to ends. Try Ojon Dry Recovery Hydrating Volumizing Foam, which has pure ojon oil to condition at the same time as style.
Comb through your wet hair using a Tangle Teezer, to remove knots, and then rough-dry by holding hair upside down to get the maximum amount of body into the root area. My favorite hairdryer is the GHD Air because it's super powerful and cuts drying time down by half. Part the hair from ear to ear and clip the crown section to the top of your hair.
Apply a pea-size amount of Illuminoil, all over your hands as you would a hand cream (a great method to distribute it evenly) and comb through hair with fingers. The pomegranate, jojoba, and almond oils leave the hair nourished, while argan oil helps to flatten the cuticle of the hair so that it becomes shiny.
Normally you would dry small sections of hair using a hairdryer and round brush. However, I find the quickest way to get body is with a BaByliss Big Hair Spinning Brush, which does all the work for you. Separate the hair into three sections and brush as you normally would, slowly working over and under the hair.
As you finish each section, roll it under and secure it to your scalp with a sectioning clip. Repeat all over the hair until you look as if your hair is in rollers. Be sure to find your parting first before pinning the front. Spray your do-over with a hairspray. I like Intelligent Nutrients Certified Organic Perfect Hold Hairspray because, unlike so many others that leave the hair feeling stiff, it provides a long-lasting hold with an invisible feel. The key to making your blow-dry last is to leave the sectioning clips in until your locks are cool… you can do your make-up while you're waiting. Now remove the clips and run your fingers through your hair.