When it comes to buying new workout gear, you probably put clothes first (think: finding the perfect pair of leggings or workout sneakers that will elevate your training). But what about the right gym bag? Bet you haven't thought about investing in a new one of those for quite some time.
In fact, raise your hand if you've been shlepping around with the same worn-out duffel since college? Yep, it's time for an upgrade.
After all, finding the right duffel, backpack, or tote can make all the difference when it comes to feeling extra motivated to crush your workout. You want something that can carry everything you need for a successful sweat sesh but also have multi-functional usage too. Want to go straight from the grocery store to the gym? There's a bag for that. Tote your gear on a long run? There's a bag for that too. Or on baby duty during your hike?
The gym bag you use to tote around your clothes, sneakers, and toiletries should be so stylish that you want to show it off—and inspire you to go work out, of course. The best gym bags for women are versatile enough to carry from the office to the gym to dinner out, and everywhere in between. They're also spacious enough to fit everything you need comfortably, and made of durable materials built to last.
Plus, they make great holiday gifts, and many offer additional features like waterproof fabric, sustainable designs, and handy inner pockets to help you stay organized. Whether you prefer a gym backpack, a roomy tote bag, or a convertible option that can act as either, you'll have no trouble finding the right gym bag on this list.
Convertible Tote Bag
No two days are the same, which is why it's nice to have options when it comes to your gym bag. The 3-in-1, multi-use Convertible Tote can be worn over the shoulder, as a backpack, or as a crossbody tote, so no matter how full your hands are, this versatile, lightweight gym bag never adds to the chaos. The leather-free tote features plenty of interior and exterior pockets—all coated in a water-resistant fabric made of recycled plastic bottles—to keep your belongings organized and protected no matter where your day takes you.
Nike Element Backpack
Stash your daily essentials in the Nike Element Backpack for men and women. The large zipped compartment makes room for your laptop or books while mesh pockets on the side and front zipped pocket helps you stash small items. The carry handle and adjustable shoulder strap enable you to carry it any way you want.
Herschel Settlement Philadelphia 76ers Backpack
Available since the '70s, this Scandinavian-designed bag is a classic because it blends functionality with a contemporary and stylish silhouette. Available in variant colors to match your ensemble.
Sprayground Reverse Sharks in Paris Backpack
Printed with a brown checker on the inside of the bag, this reverse Sharks in Paris is one of a kind and sure to make you stand out. This bag comes with a detachable coin pouch in matching fabric and has plenty of gold chain hook points and details. There is also a horizontal front zipper for added details. Product Details Exterior: Dimensions: 18″ x 6″ x 11.5″ Front zipper pocket Side pockets Ergonomic mesh back padding Adjustable Straps for custom sizing Interior: Separate Laptop compartment Separate Velour sunglass compartment Mesh organizer pocket
Metro Tote
Walk into any gym, and you're bound to see a woman carrying a tote. Workout friends love these bags because they're roomy, lightweight, durable, available in tons of colors and prints, and fashionable enough to carry everywhere you go.
Recruit Backpack
Eliminate having to carry multiple bags during your daily commute with a Nike Recruit backpack. It has a handy inside pocket for your laptop or iPad, and you still have room for a pair of shoes and a water bottle. Plus, the air mesh straps provide comfort and breathability—especially helpful when you're super sweaty after a workout class.
Nike Tech Bag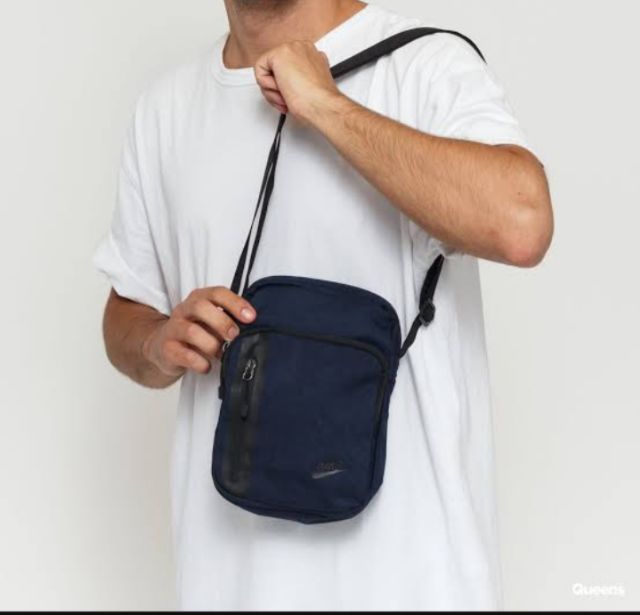 Lightweight and a durable polyester upper Main compartment with zipping around closure Dual zipper compartments to a front easily accessible compartment with Velcro closure Adjustable crossbody shoulder strap Embossed Nike signature branding.
Gym Bag Checklist!
Clean shoes– If you're not wearing clean shoes at your gym, they do not appreciate it. Debris that sticks in grooves on the bottom of your street shoes ruins the equipment.
Sweat towel– I hope you need a sweat towel at the gym. If you're not sweating: work harder!
Water Bottle– most gyms have a water cooler or drinking fountain, but I don't like to stop and walk over to it in the middle of my workout. Keeping a full water bottle also helps me drink more water!
Chewing gum– I like to chew gum to keep my mouth from drying when I am breathing heavily.
Chapstick – So much oxygen can chap your lips, don't let it be a distraction!
Hand Smelter– keep yourself germ-free at the gym!!! So many bacteria are in the gym after so sanitize!! Also, wipe down your machines BEFORE using them in case the last person did not.
3 ponytail holders– why 3? You'll quickly find one! 1 have spent 10 minutes searching for a holder before.
Clean clothes-if you're going before work or before a party pack clean clothes to change into after showering. Save time and shower at the gym!
Shower essentials– body wash, shampoo. Everyone is different! Face wash/wipes– do your complexion a favor and wash right after a sweat peaI.