Shop The Ordinary Body Essentials Starting From $8.00
Shop The Ordinary Body Essentials Starting From $8.00
Shop The Ordinary New Release Essentials From Just $5.90
Shop The Ordinary New Release Essentials From Just $5.90
Shop The Ordinary Skincare Supplements From $0.90
Shop The Ordinary Skincare Supplements From $0.90
Checkout The Ordinary Best Sellers Collection Starting From $11.70
Checkout The Ordinary Best Sellers Collection Starting From $11.70
Shop Our Unique Gifts Collection Sets Only From $19
Shop Our Unique Gifts Collection Sets Only From $19
Enjoy Free Shipping On Orders Over $25+ Purchase
Enjoy Free Shipping On Orders Over $25+ Purchase
Few brands have revolutionized the way we shop for skin care the way The Ordinary has. Before the Canadian brand blessed us with the best The Ordinary products, accessibility to cheap, high-quality options had mostly been restricted to makeup. Even with so much innovation among drugstore skin-care brands, few affordable finds really rival what luxury serums and moisturizers have to offer.
Each of The Ordinary skincare formulations is simple, including one or two actives, and leaving out additives, fillers, fragrance, and dyes. Even the product packaging is minimal with straightforward names that describe exactly what the product is without any extra fluff or deceptive details.
This brand is extremely affordable. We're talking $7 retinol serums and $6 vitamin C serums. In fact, almost all of the brand's products are less than $15. This approach to skincare has enabled The Ordinary to become one of the most popular skincare brands on the market today.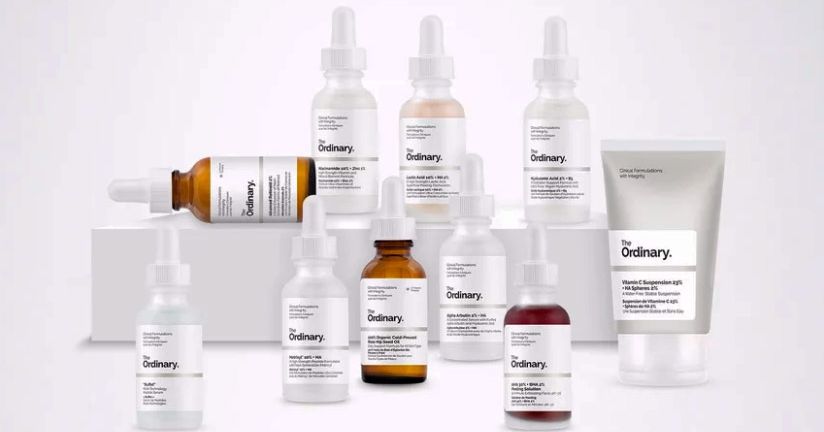 Even though The Ordinary skincare products are very popular, it's still necessary to evaluate the product formulations to determine what key ingredients are used and whether or not there's research to support the use of these ingredients.
You've probably seen this blood-red peel all over TikTok, but just in case you haven't, The Ordinary Peeling Solution is by far the brand's most buzzed-about product. It's a 10 minute exfoliating facial that includes a total of 30% alpha hydroxy acids (glycolic, lactic, tartaric, and citric acid) and 2% beta hydroxy acid (salicylic acid).
Both AHAs and BHAs exfoliate the skin, but they work in slightly different ways. By sloughing off dead skin cells from the surface, The Ordinary Peeling Solution can help to improve skin texture irregularities, pore congestion, blemishes, dull skin, and fine lines.
And the red-hue of this peel? That's due to the inclusion of a studied Tasmanian Pepperberry derivative that has been shown to help reduce irritation associated with acid use. But even with this soothing ingredient in the formula, the brand still recommends that this product should only be used by experienced users of acid exfoliation.
If you're struggling with oily skin and breakouts, you probably know that most drugstore products "treat" these issues by drying out the skin way too much with ingredients like alcohol, astringents, and harsh surfactants. Fortunately, The Ordinary has a better solution.
The Ordinary Niacinamide + Zinc is a high-strength vitamin and mineral blemish formula that combines 10% niacinamide with 1% of the zinc salt of pyrrolidone carboxylic acid (PCA). These ingredients work in unique ways to balance oil production while also reducing the acne that's responsible for causing breakouts.
An added bonus: niacinamide is known to reduce signs of aging, strengthen the skin barrier, and improve dullness. So, this serum should not only help to reduce congestion and breakouts, but also give your skin a healthy glow.
The Ordinary Hyaluronic Acid + B5 is a hydration support formula that combines 2% hyaluronic acid and provitamin B5 (panthenol). While all skin types can benefit from this product, it's especially great for those with oily skin.
If you have oily skin, you know that finding a moisturizer that doesn't turn your face into a greasy mess can be challenging. That's because most moisturizers contain emollients that sit on top of the skin to lock in moisture.
There's nothing wrong with emollients; in fact, they are quite helpful for those with normal to dry skin. But those with oily skin may find that emollients cause their skin to look greasy. If that sounds like you, we think you'd benefit from hydration support formulas like The Ordinary Hyaluronic Acid + B5.
Plus, The Ordinary Hyaluronic Acid + B5 not only supports skin hydration but can also reduce signs of aging like fine lines and wrinkles. That's because the formula includes three forms of hyaluronic acid with varying molecular weights, as well as a hyaluronic acid cross polymer, in order to offer multi-depth hydration and visible plumping of lines and wrinkles — without drawing water out of the skin solely to improve temporary surface hydration.
If you're trying to prevent or reduce signs of skin aging, then you've probably heard that it's a good idea to add a retinol serum into your nightly routine. Retinol is clinically proven to minimize the appearance of fine lines and wrinkles, improve uneven skin tone, restore skin firmness, and shrink the appearance of enlarged pores.
The Ordinary Retinol 0.5 in Squalane is a highly stable, water-free solution of 0.5% pure retinol in a base of squalane. This is a moderate strength formula, so if you haven't used retinol in the past, the brand strongly recommends that you start your retinol regimen with The Ordinary Retinol 0.2% in Squalane, which is the lowest strength that the brand offers.
The reason you should start low with retinol is due to the potential for skin dryness, peeling, and irritation. These side effects occur because of how retinol works; it increases cell turnover, which may cause your skin to look worse before it starts to look better. If you can get through this initial period, called "retinization", then you'll reap the benefits of smoother, brighter, more youthful-looking skin.
This lightweight cream-gel features 10% azelaic acid, which is produced by yeast that is part of normal skin flora. While azelaic acid isn't as buzzed-about as hyaluronic acid or glycolic acid, we think it should be!
That's because azelaic acid is a true multi-tasker. Research demonstrates that azelaic acid can help reduce acne, improve rosacea, fade hyperpigmentation, brighten skin tone, and more. While all skin types can benefit from The Ordinary Azelaic Acid Suspension, it's best for those with acne-prone skin and/or dull skin.
Overall, we think that The Ordinary products are formulated well with high-quality, evidence-based ingredients. And its a plus that the products are priced low, making this brand accessible to many consumers.
Products contain evidence-based ingredients
Products are fragrance-free
The brand is very transparent and they also take the time to educate consumers on how the ingredients in their formulations work
The Ordinary reviews are very positive
Affordable cost (all products less than $15 USD)