Imaging a Sporty look for men Featured Image
It is world-renowned fact that men styling themselves can be quite a challenge as the options are either minimal in accessories & footwear or, they are just not good enough at making themselves look better. Nonetheless, nothing is classier than a man who has a good taste in footwear and can simply make any footwear look elegant and eye-pleasing with his choice of outfit. Even in basic denim and a white t-shirt, a man must know how to rock a pair of easygoing shoes and yet look impeccable in the most basic outfit. So, here's a list of shoe options that all men must have in their wardrobe to look like the best-dressed man in the room this Christmas.
The difference between style & fashion is quality and for a man, who is well alert of his personal style, he would always desire a quality shoe rather than an expensive shoe that only caters to a certain trend. The basic difference between 'fashion' and 'style' is not all about the quality; it is somewhat about being able to make an expression with the most comfort without having to worry about fashion trends. Style is personal, which is why we have got an elegant pair of casual white shoes that are essential in every man's wardrobe.
It is natural that fashion fades but style is eternal and those who have a classic sense of style will always know what to wear and when. Having the ability to find the right pair of shoes is a quality every man must possess. This is why taking this ability further, it is advised you buy yourself a pair of casual Basketball, Running, Casual shoes, or even Slides. Go for these on this festive occasion or for everyday wear, they look outstanding with denim, a jacket, or also a basic summer shirt.
It is possible that your shoe collection already consists of main black or white sneakers. If not then it is an utter necessity for a man to own these basic sneakers from renowned brands like Nike, Adidas, Jordan, New Balance, Puma, Converse, or much more. Lacoste shoes in multiple tones and colors – which can be worn at work, at an event, or a party. Wear these pair of shoes with your casual attire to be the ultimate definition of a brawny man.
A stylish yet comfortable pair of sports shoes is the demand in this non-stop mechanical life and is a must-have. And while you are surrounded by a multitude of options, it often gets frustrating what to pick! This is why you can make your life easier with trendy shoe pair of sports shoes that highlight no-lace and a little bit of height with a lot of ease. So, opt for Nike Air Vapor Max 2019 Utility for ultimate sophistication in the simplest of designs.
Now that you are fully aware of the classic & trendy shoes that are a staple in every man's wardrobe, you do not have to worry about not being able to find the right pair of shoes, because Foot Locker has got you covered with a range of shoes that not only guarantee great pricing but also superb quality. Brand loyalists would certainly agree to this.
1. The start:
Becoming a fashionista is a slow process. it doesn't happen overnight. It can take weeks or months for you to finally get a feeling for what looks good and what doesn't. In the beginning, I'd recommend you to stick to the absolute basics. Don't buy anything fancy and expensive unless you're 100% sure about it. When I first started getting into fashion, I renewed my whole wardrobe (I hated my old clothes and thought it would be a good idea to throw it all away at once and get new stuff right away), ending up buying lots of stuff I wore once or twice until I realized they're not what I'm looking for at all. Please don't make this mistake! So, this is how you start: Split your current wardrobe into things that fit you and things that don't. Keep the stuff that fits and give the rest away (donating them would be a good way to get rid of them). The rich and famous, movie and rock stars wear the same stuff you do, but the difference is that their stuff actually fits them.
The Basics
Basic stuff means stuff you can wear all day every day. Preferably get them in the following order.
T-shirts: one for each day of the week is a good start. Keep them plain and simple: one color. no graphics, round neck. Don't underestimate the power of a plain white t (but any color that suits you is fine, more on that matter later). It's one of the most effective pieces of clothing you will ever have. You can wear it as an undershirt in winter or on its own in summer. You can even wear them in combination with a suit. Polo shirts would be a nice alternative, but I think you don't really need them.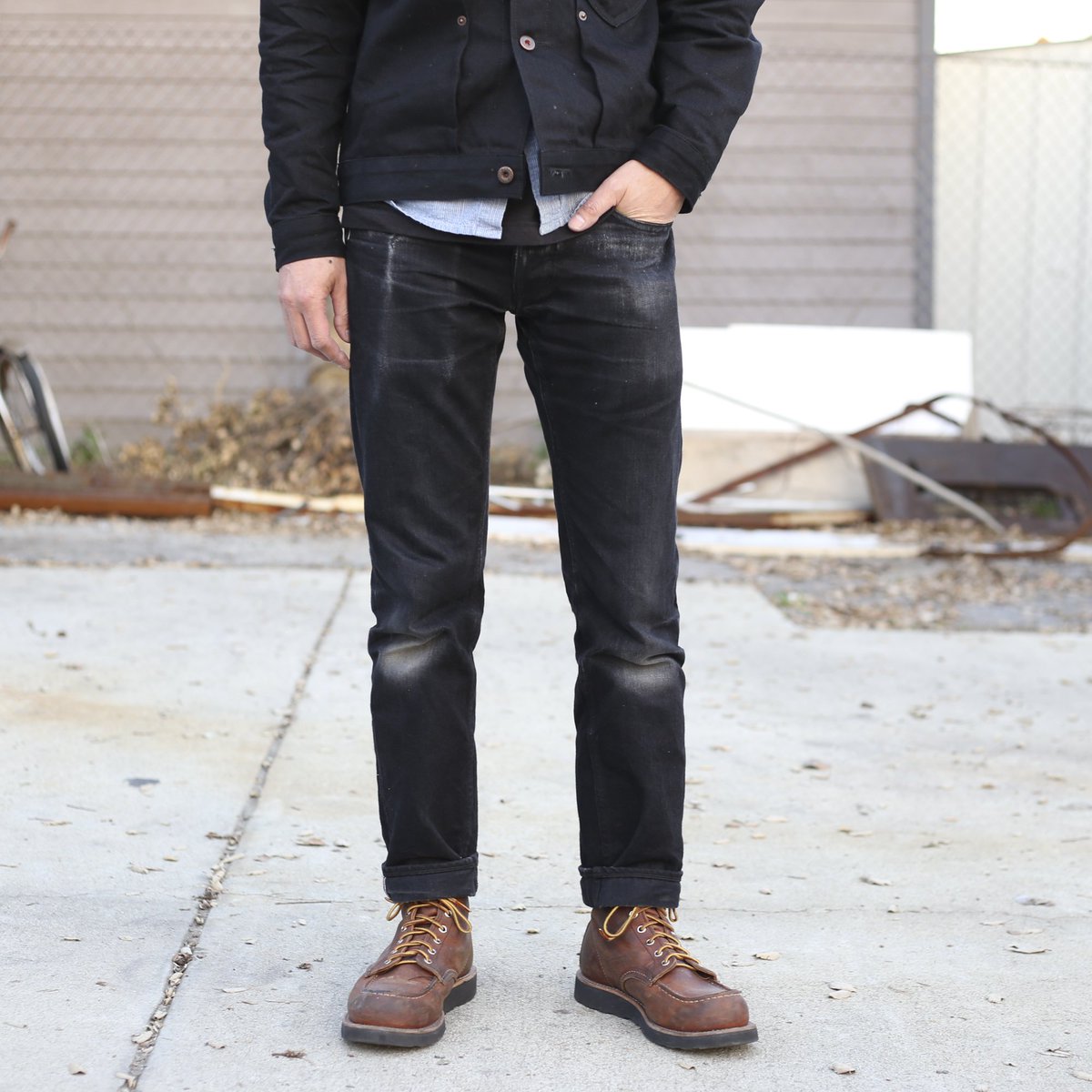 Raw jeans: the only pair of jeans you'll ever need. Since there are many guides on raw denim out there, I won't discuss that topic here either.
Footwear: I don't think you'll ever need more than three pairs of shoes. One for summer, one for spring and autumn, and one for winter.
Button-up-shirts: Personally, I think they're overrated, especially for beginners. But in the end, you can't go wrong with them. Both one-colored and patterned shirts are fine. Stick to simple patterns though. Don't be afraid to tuck your shirts in for a more formal look.
Sweatshirts: Once again, keep them plain and simple and make sure they fit. Since you'll only wear them on colder days two or three different sweaters should be enough. It would be a good idea to pick them with a wider neck so you can wear them in combination with a button-up. Stay away from hoodies.
Belt: You don't really need more than one. Preferably a leather one. Keep them slim and the buckle minimalistic. Canvas belts can work too, especially with canvas shoes. Although you don't necessarily need a belt and some people count it as an accessory. you really need one if you're planning to tuck your shirts in.
Winter coat: Pea and duffel coats are the coats of choice. Trench coats can look good on some people. but they're a bit too feminine in my opinion. Parkas can look good, but it's hard to find a decent one. Keep in mind that the main function of a coat is to keep you warm! So, this is one of the few cases where functionality overrules design. One thing on accessories like bags and backpacks, sunglasses. scarfs, hats, and any form of jewelry: these are the very last things you should get! They complete your outfit but you don't necessarily need them to look good. Spend your money on the more important stuff first!